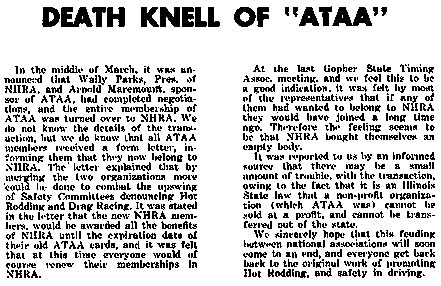 Many people believe that since the early 1950s, the National Hot Rod Assocaition has had the dominant spot in the sport of drag racing across America. Those people would be wrong. See, in 1958 Wally Parks was facing the biggest threat he would ever encounter with respect to the NHRA that he had founded and started in the early 1950s. It was a corporately backed organization called the Automotibile Timing Association of America and they had the money, the savvy, and the media horsepower to knock the NHRA off its perch and were on the verge of doing so in 1958. Then, a funny thing happened. 
In March of 1958 at a conference of drag strip operators, Wally Parks stood before them and made the shocking announcement that the NHRA and ATAA would merge. All operations would be run under the NHRA name as directed by him. All of the massive ATAA membership would immediately transfer to the NHRA banner, and that would be that. 
It was, in effect the greatest coup in drag racing history. One that set the stage for the sport's unification and explosive growth through the 1960s. There were other organizations, but they all paled in size and scope when it came to the NHRA.
It's a story of money, a botched beauty contest, and plots twists that you'll never see coming. Wally won in the end and somewhere he's still smiling about it.